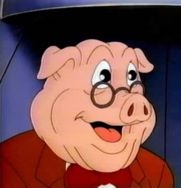 The Secretary General served as the head of the United Animals Security Council whenever Grebb or Harman were not present. He was a short pig in a business suit with glasses. He commissioned the frigates Indefatigable and (at Bucky O'Hare's suggestion) the Screaming Mimi.
He was scripted to appear in Corsair Canards alongside Grebb and Herman but did not appear in the final episode.
In the Web Series, he is misidentified as the chairman and given the name Pigton.